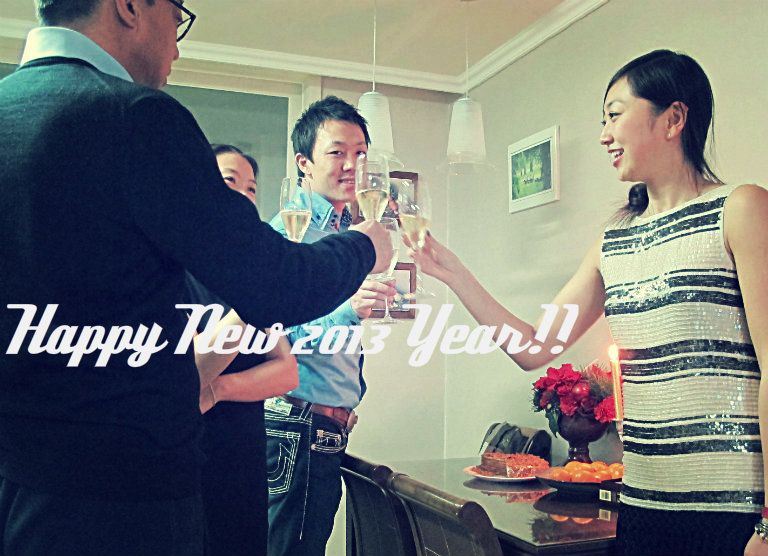 Happy New 2013 Snake Year everyone! I know I am kind of late, but its better to be late, than never, isn't it? As I said in last post we spent our New Years in Korea with my family! I was so happy to be with my family, this time I even my grandma- was with us, she just arrived there from Russia 3days before we arrived :) Anyways, it was small family New Years Eve, we had a dinner and spent our 24:00 at home, welcoming 2013 with wine and champagne! Had a little fashion show with my mom's hats lol (one of them is mine!) Celebrated and wished Happy New Year with relatives from Russia by Skype lol And ate my favorite Russian honey cake Medovik! I've made it for my dad :)
First, I want to thank 2012 year, I got married, I met new friends, and I happy I still got some of, but truthful old friends, yes there were few of not really good things happened....I don't have religion, I trust only in myself, but I truly wish and kind of pray for that things which are not really good, I prayed and I will pray till everything will be ok.
I know it's late, again...But I want to wish myself, my family, my friends, and everyone of you the very
HAPPY NEW 2013 SNAKE YEAR
! Happiness, lots of smiles and laughs, be healthy, be thankful, be happy (again lol)! I wish this year will be just amazing as last year or even more!
ちょっと遅いけど、あけましておめでとうございます!最後のポストで書いたように、今回のお正月は韓国で家族と過ごしました。家族と過ごして、本当に嬉しかったです、今回帰った時は内のおばあちゃんにも会えて嬉しかったです!ちょうど良く、私達が行く3日前おばあちゃんはロシアから来て、みんな一緒に会いました。お正月は家族だけで、晩ご飯たべて、24:00を待ちわびて、ワインとシャンパンで新年を迎えました。
お母さんの帽子を使って、ちっさいファッションショーもしましたりハハ、スカイプを使って、今ロシアにいる親戚と挨拶をしたり、私が一番大好きなロシアの蜂蜜ケーキメドヴィクを食べました(お父さんのために作ったんです)。
最初は、2012年に感謝したいんです。結婚をして、新しい友達もできて、まだ前の友達、本当の友達もいて、悪い事もあったけど。。私は信仰がないです、自分は自分だけ信じます、でも時々心からあった悪い事はもういなくなるように祈ります。祈ってずっと祈るつもりです、悪い事は全部なくなって、良い事になるまで!
もう一回、あけましておめでたいんです!今年もいい昨年ような、もしかしたら、もっといい年になるように!笑い事もたくさんあって、健康もよく、人生に感謝して、楽しんでください!